The Mystery Truffle Collection
The Mystery Truffle Collection
A mystery unboxing experience for chocolate truffle lovers! The Mystery Truffle Collection features a surprise assortment of Vosges Limited Edition collections, high vibe confections from LAB: Katrina Markoff, and our classic Purple Box Bestsellers.
This limited experience sells out fast! Sign up to get notified about delicious new drops and discover a decadent connection with your tastebuds. 
Regular price
$82.00
Sale price
$60.00
Unit price
per
Sale
Sold out
Each Mystery Truffle Collection contains a surprise assortment of Limited Edition Collections, LAB: Katrina Markoff confections, and classic Purple Box Bestsellers. The assortment will change with every new drop.
A Guided Tasting of Haut-Chocolat:
Our chocolate is infused with a 528hZ healing sound frequency to raise your vibe.

BREATHE: Close your eyes. Take three deep, ujjayi breaths. Listen to the space between thought and prepare your palate to experience chocolate.
SEE: Describe what you see. What is the shape, color, sheen and texture?
TOUCH: Run your finger against the chocolate, noticing it's texture and releasing the aromatics.
ON THE NOSE: Bring the chocolate to your nose. Close your eyes, cup your hand around the chocolate and inhale deeply.
ON THE PALATE: Enjoy in two bites. In the first bite you are just getting to know the chocolate, and in the second, you delve deeper, searching out the aromas and nuances.
THE FINISH: Breathe into your mouth and taste the long, lingering finish, layered with perfumed notes


How to Care for your Collection:
Living in Paris, Katrina learned the Parisian ritual of purchasing chocolate and pastry daily. We use exotic and ephemeral ingredients for all our products.
Care:
Our chocolate collections are FRESH and PERISHABLE. Keep your haut-chocolat refrigerated until two hours before serving. Consume by listed expiration dates, in some cases 7-14 days from shipment.
Details:
This Mystery Box may contain the following allergens.
Allergens for each collection will be listed separately on the packaging: Egg, Milk, Peanut, Soy, Wheat, Tree Nuts (Almond, Chestnut, Coconut, etc), and Sesame.
Processed on equipment that also processes Milk, Soy, Wheat, Peanuts, Sesame and Tree Nuts.
SKU: TC-MYSTERY-1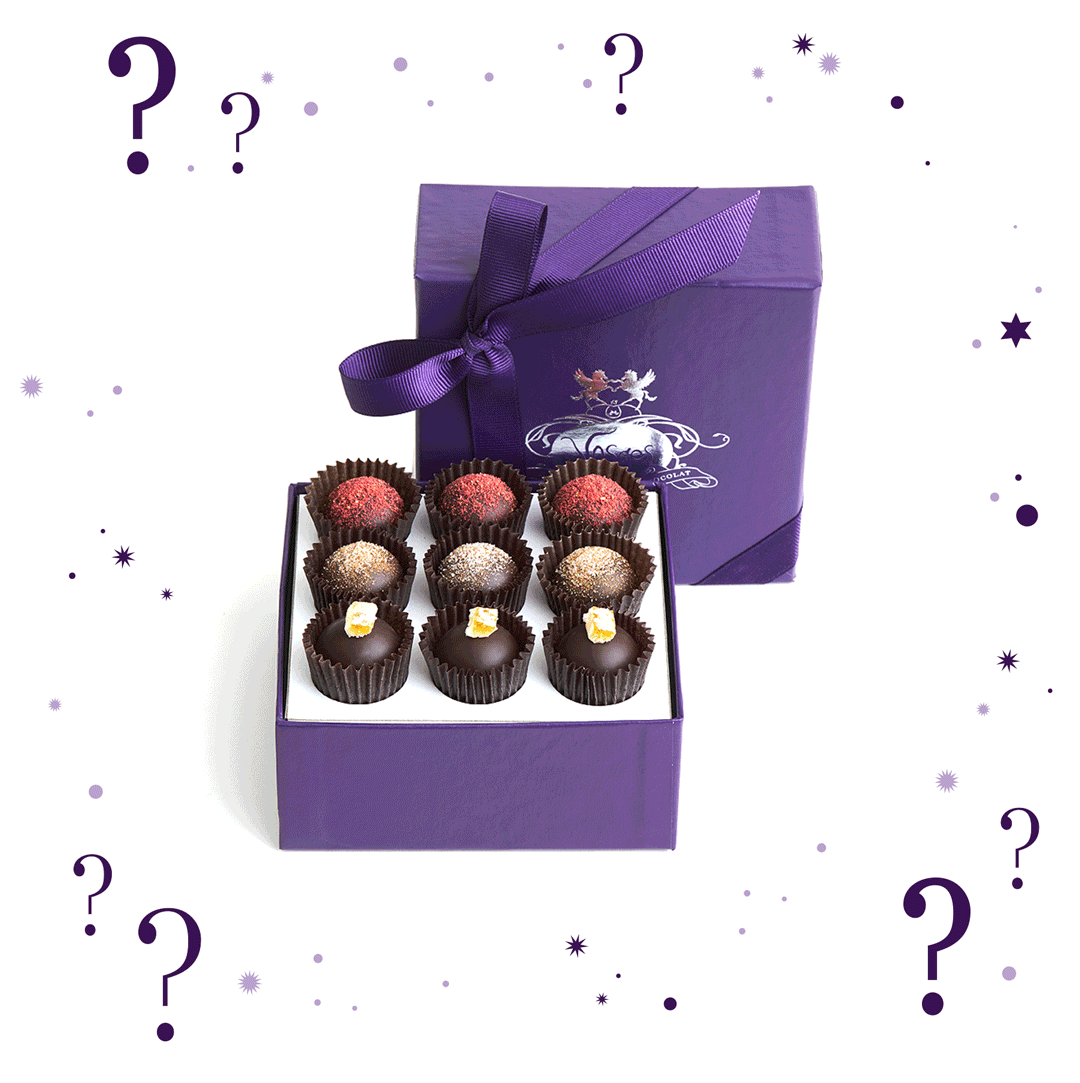 Don't just take our word for it...