Love Energy Ensemble
hall of fame
Love Energy Ensemble
This selection of 23 truffles is an expression of the divine masculine and feminine, crafted to share with those you adore during this season of love. We've chosen ingredients from across the world that reflect the passion of the heart and hands that grew them and the heritage of the places they come from. Fall in love with parfums of wild strawberries and mascarpone cheese, Kokuto black sugar caramel, Montmorency cherry, and Bronte pistachio paired with our proprietary chocolate. The Love Frequency Ensemble is the ultimate gesture of love for Valentine's Day. 

With every Love Frequency Heart Collection purchase, you will receive 2 mini Haut-Chocolat Bars- one infused with the 528 Hz sound frequency, and one without. Scan the QR code on your tasting envelope and let Katrina be your guide. Can you tell the difference and taste the frequency of love?
Love Frequency Ensemble Collection, 23 pieces:
(2) Ancho: Ancho chillies + Ceylon cinnamon+ 62% cacao dark chocolate
(2) Armenian Apricot: Armenian apricot gelée + baobab + 36% cocoa butter white chocolate
(2) Bergamot: bergamot citrus + 62% cacao dark chocolate
(2) Bordier Butter: A.O.C. grass-fed French butter + 72% cacao dark chocolate + Ube
(2) Montmorency Cherry: Alsatian kirsch + 62% cacao dark chocolate + Montmorency cherry
(2) Hazelnut: I.G.P. hazelnut + saffron + 45% cacao deep milk chocolate + 24-karat gold
(2) Kokuto Black Sugar: Black sugar caramel + 62% cacao dark chocolate + dulse
(2) Pistachio: Bronte pistachio + almond + rose + Yaupon tea + 72% cacao dark chocolate
(2) Raspberry Jam: French raspberry + 72% cacao dark chocolate
(2) Strawberry Mascarpone: Strawberry + gooseberry + mascarpone + 36% cocoa butter white chocolate
(2) Strawberry Yuzu: strawberry + mascarpone + yuzu + 36% cocoa butter white chocolate
(1) Ube Purple Potato: Ube purple potato + Tanzanian vanilla + mascarpone + 36% cacao white chocolate
A GUIDED TASTING OF CHOCOLATE
A guided tasting to connect with the chocolate, through the body and the senses. In this process of tasting, you will be brought into your senses and ultimately into the essence of self. Trust the voice you find inside. Our chocolates are infused with a healing sound frequency, 528 Hz which is the same frequency as the sistrum, a musical instrument from Egypt used for ceremony and healing.

BREATHE: Close your eyes. Take three deep, ujjayi breaths. Listen to the space between thoughts and prepare your palate to experience chocolate. Breathwork prepares us to receive the chocolate in all its energetic magic.

SMELL: Bring the chocolate to your nose. Close your eyes, cup your hand around the chocolate and inhale deeply.

SEE: Describe what you see. What is the shape, color, sheen, and texture?

TOUCH: Run your finger against the chocolate, noticing its texture and releasing the aromatics

ENGAGE YOUR IMAGINATION: An Active Imagination is a vitally important aspect to bring into the experience of tasting. The Active Imagination will begin to open your field. Trust what comes to you and don't hesitate, follow these nudges. (The imaginal is a way of perceiving the subtle forms, energy, and feelings.)

TASTE: Enjoy your chocolate in two bites. In the first bite, you are just getting to know the truffle, and in the second, you delve deeper, searching out the aromas and nuances. You become immersed in the experience of the chocolate and the sensations. After you've eaten the truffle, take a breath and taste the air. The aroma should have a long, lingering finish that is layered with perfumed notes. Metabolize the chocolate's character as you close your eyes and taste. Allow yourself to follow where the senses take you. Remember, beauty and light are the same. What is arising within you? Now that you have deeply traveled inside, look around at what presence is within you, notice the infinite, vast, space. What do you feel, see, and smell? Welcome to your heart intelligence.

Care:
This collection is FRESH and PERISHABLE. For best enjoyment, keep this box of haut-chocolat refrigerated until two hours before serving. Consume by listed expiration date, 14 days from shipment. Please also reference the expiration date card that arrives with your package.

Details
Contains: Almond, hazelnut, pine nut, pistachio, milk, soy, wheat*
The wheat has been processed to allow this food to meet the FDA requirements for gluten-free foods. Processed on equipment that also processes Milk, Soy, Wheat, Eggs, Peanuts, Sesame, and Tree Nuts.

SKU: TC-LOVE-FREQ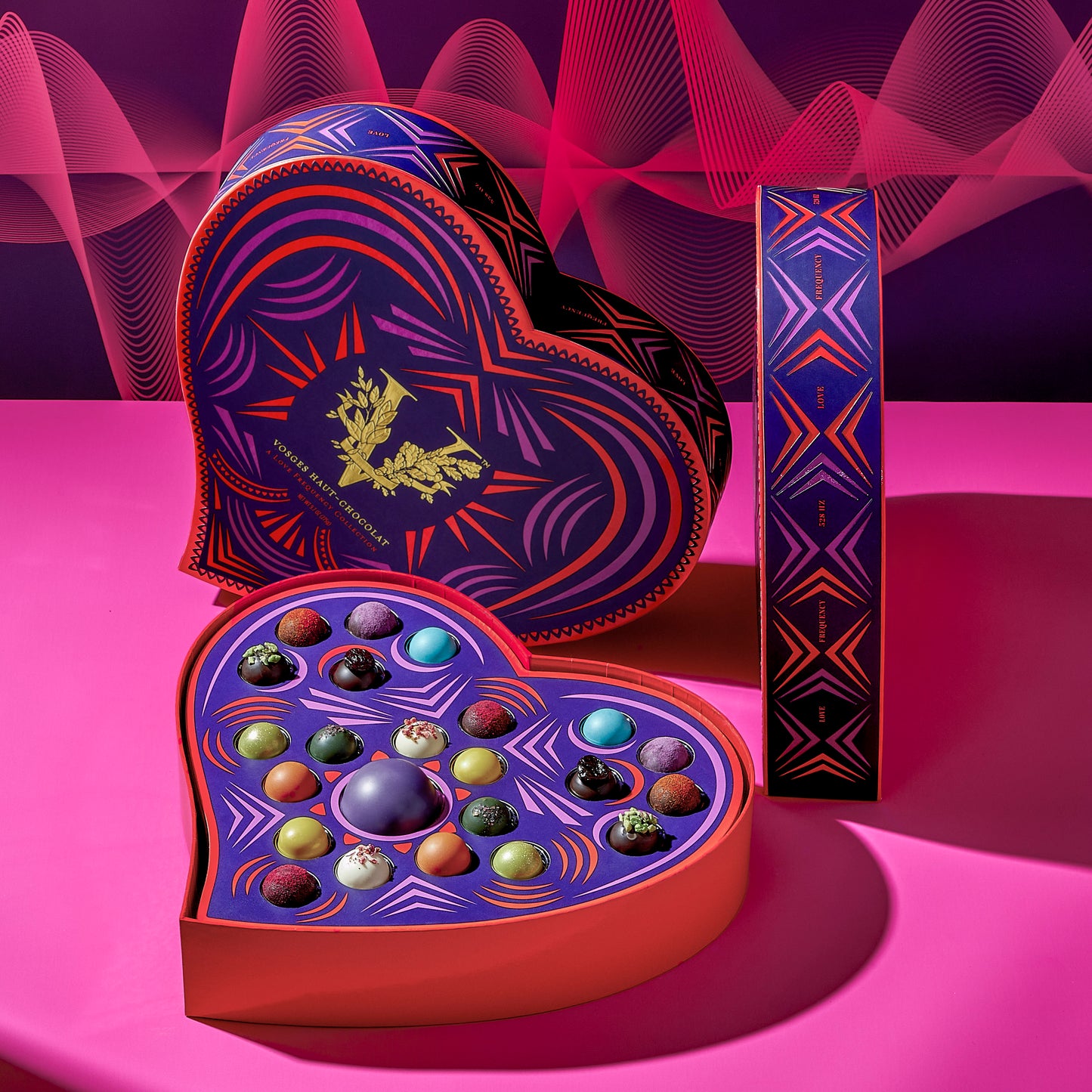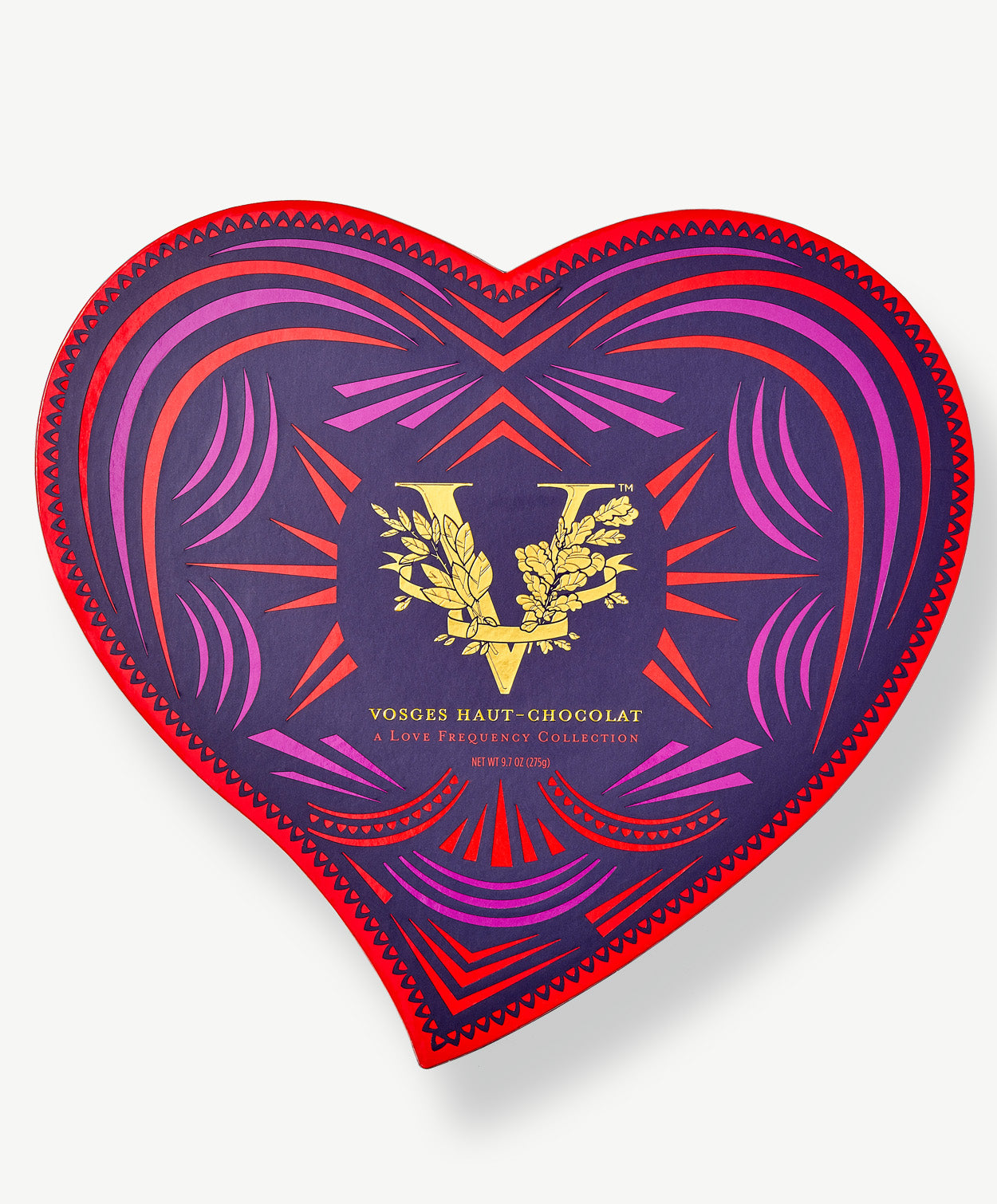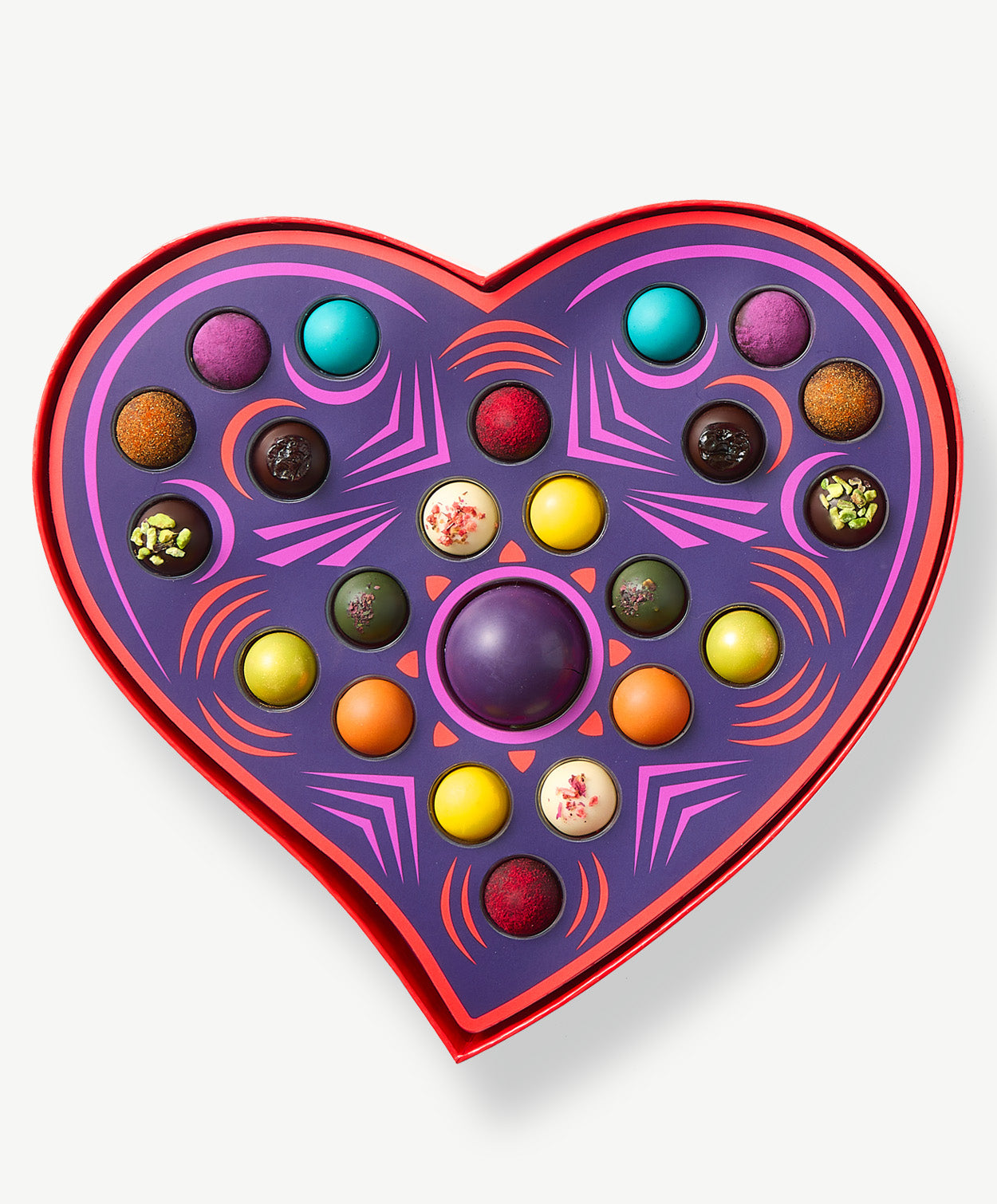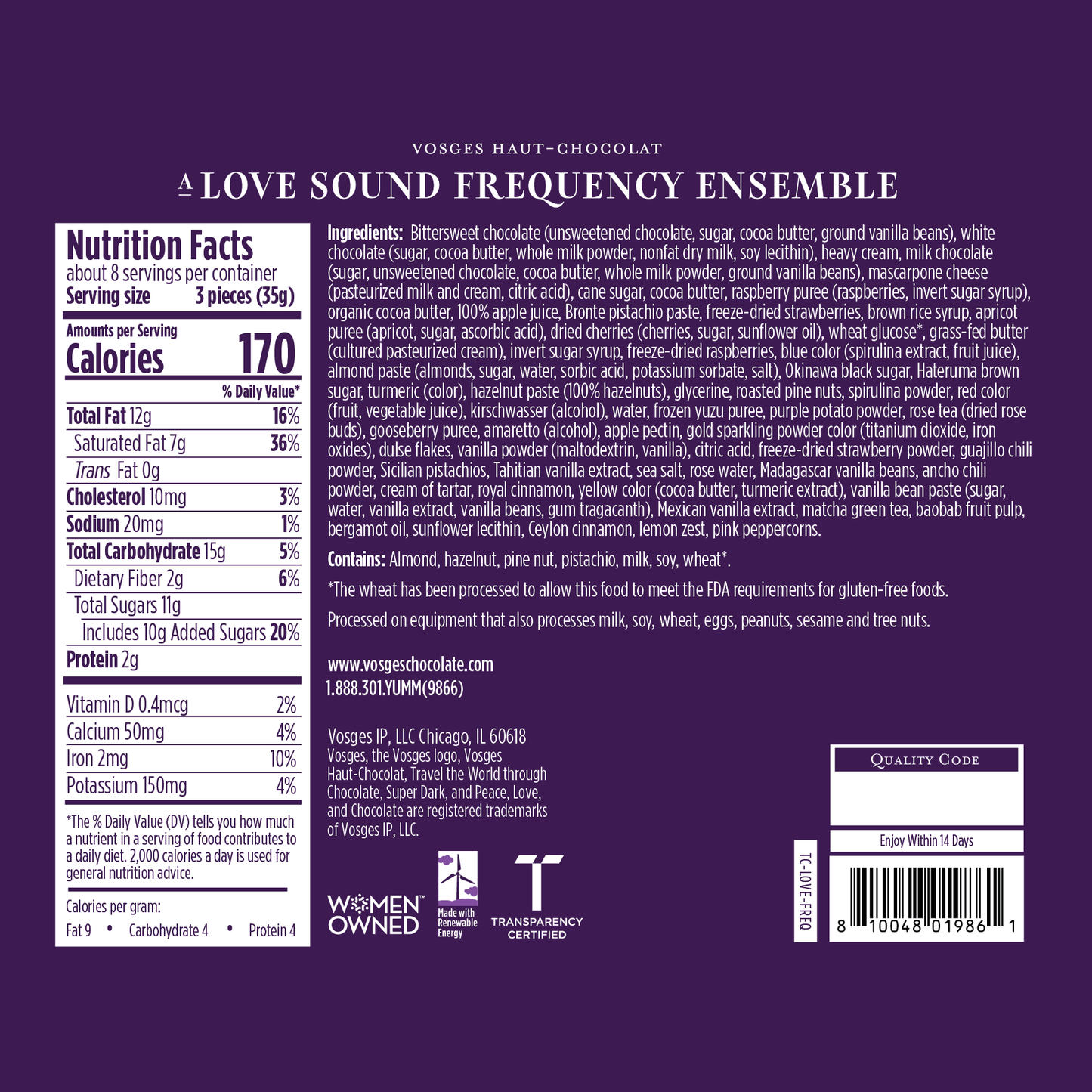 Don't just take our word for it...