Grateful Dead Truffle Collection with Limited Edition Patch
hall of fame
Grateful Dead Truffle Collection with Limited Edition Patch
With the Grateful Dead as her muse, the Grateful Dead Chocolate Truffle Collection takes you on tour with the band through the medium of chocolate.
Inspired by Katrina's personal memories and the magic of the Dead's music, this 16-piece Grateful Dead Chocolate collection encapsulates the spirit of a favorite Grateful Dead album or show. A special souvenir patch accompanies the collection as a memento to be added to your favorite tour t-shirt or jacket. If you loved the magic that Grateful Dead inspired then these Grateful Dead chocolates are the sparks to reignite that feeling! 
 ™ & © 2019 Grateful Dead Productions. All Rights Reserved. Dead.net
Take a look at what is included in the Grateful Dead Chocolate Collection.
(2) California Ray: Nutmeg + Ginger + Turmeric + Cardamom + Cinnamon Ceylon + Whole Clove + Fenugreek Seed + White and Black Pepper + Ground banana peel + Coconut Puree
(2) Dusty Delilah: Reishi mushrooms + Rum tincture + Coconut + Mexican vanilla + Raspberry + 72% cacao dark chocolate
(2) Mind Bender Matcha: Wasabi + Ginger + 72% cacao dark chocolate
(2) Moon Mountain Mama: Orange Carrot Confit + Almonds + Curcumin + Mediterranean Olive Oil + Amaretto + Felchlin Marzipan
(2) Praline Queen: I.G.P. Piemonte hazelnuts + 45% cacao deep milk chocolate
(2) Scarlett Violet: Mediterranean Olive Oil + Rothman & Winter Crème de Violette + St. Germain Liquor + Crystalized Violet flowers + 72% cacao dark chocolate
(2) Tennessee Jam: Mediterranean Olive Oil + Blackberry Puree + Blue Spirulina
(2) Yeah Dave: Ceylon Cinnamon + Ancho Chili Powder + Grass-Fed Butter + Guajillo Chili powder + Beet Powder
(1) Grateful Dead collectible patch
A Guided Tasting of our Grateful Dead Chocolate Truffles:
Our truffles are infused with a healing sound frequency to raise your vibe.

Breathe
Close your eyes. Take three deep, ujjayi breaths. Listen to the space between thought and prepare your palate to experience chocolate.

See
Describe what you see. What is the shape, color, sheen and texture?

Touch
Run your finger against the chocolate, noticing its texture and releasing the aromatics.

Smell
Bring the chocolate to your nose. Close your eyes, cup your hand around the Grateful Dead chocolate and inhale deeply.

Taste
Enjoy your truffle in two bites. In the first bite, you are just getting to know the truffle, and in the second, you delve deeper, searching out the aromas and nuances. You become immersed in the experience of the chocolate and the sensations. After you've eaten the truffle, take a breath and taste the air. The aroma should have a long, lingering finish that is layered with perfumed notes.
How to Care for your Collection:
Living in Paris, Katrina learned the Parisian ritual of purchasing chocolate and pastry daily. We use exotic and ephemeral ingredients for all our products.
Care:
This collection is FRESH and PERISHABLE. Keep this box of haut-chocolat refrigerated until two hours before serving. Consume by listed expiration date, 14 days from shipment.
Details:
Contains: Almonds, Coconuts, Hazelnuts, Milk, Soy, Wheat
Processed on equipment that also processes Milk, Soy, Wheat, Eggs, Peanuts and Tree Nuts.
SKU: TC-GRATEFUL-016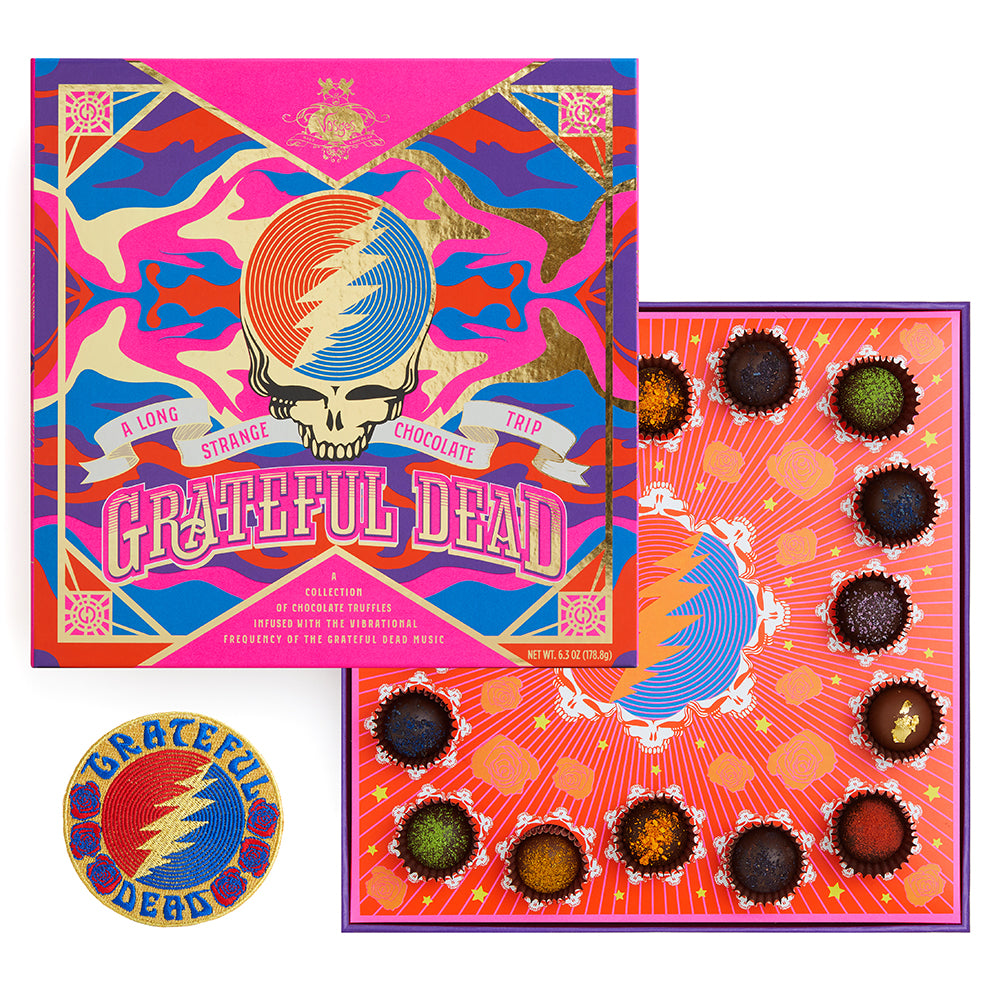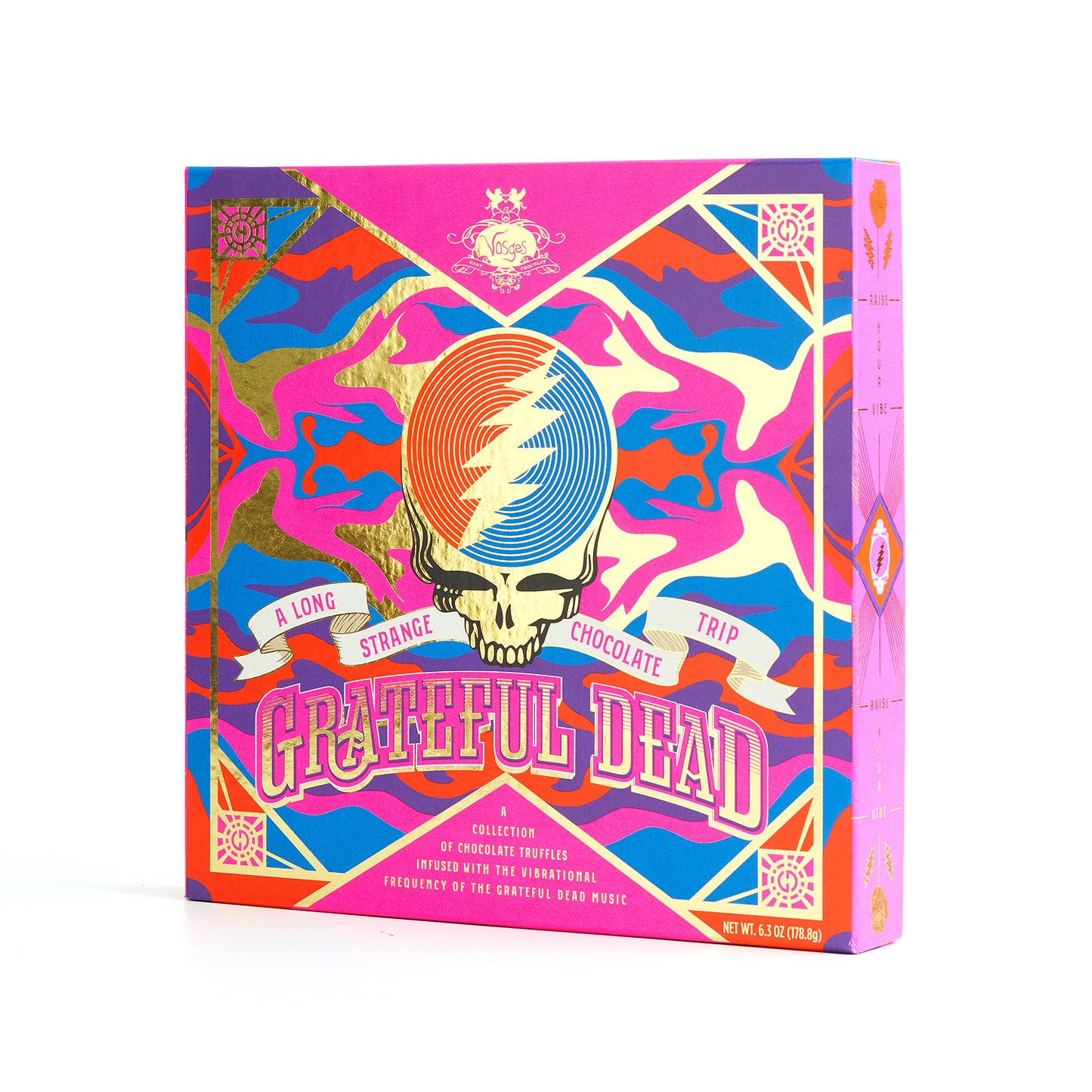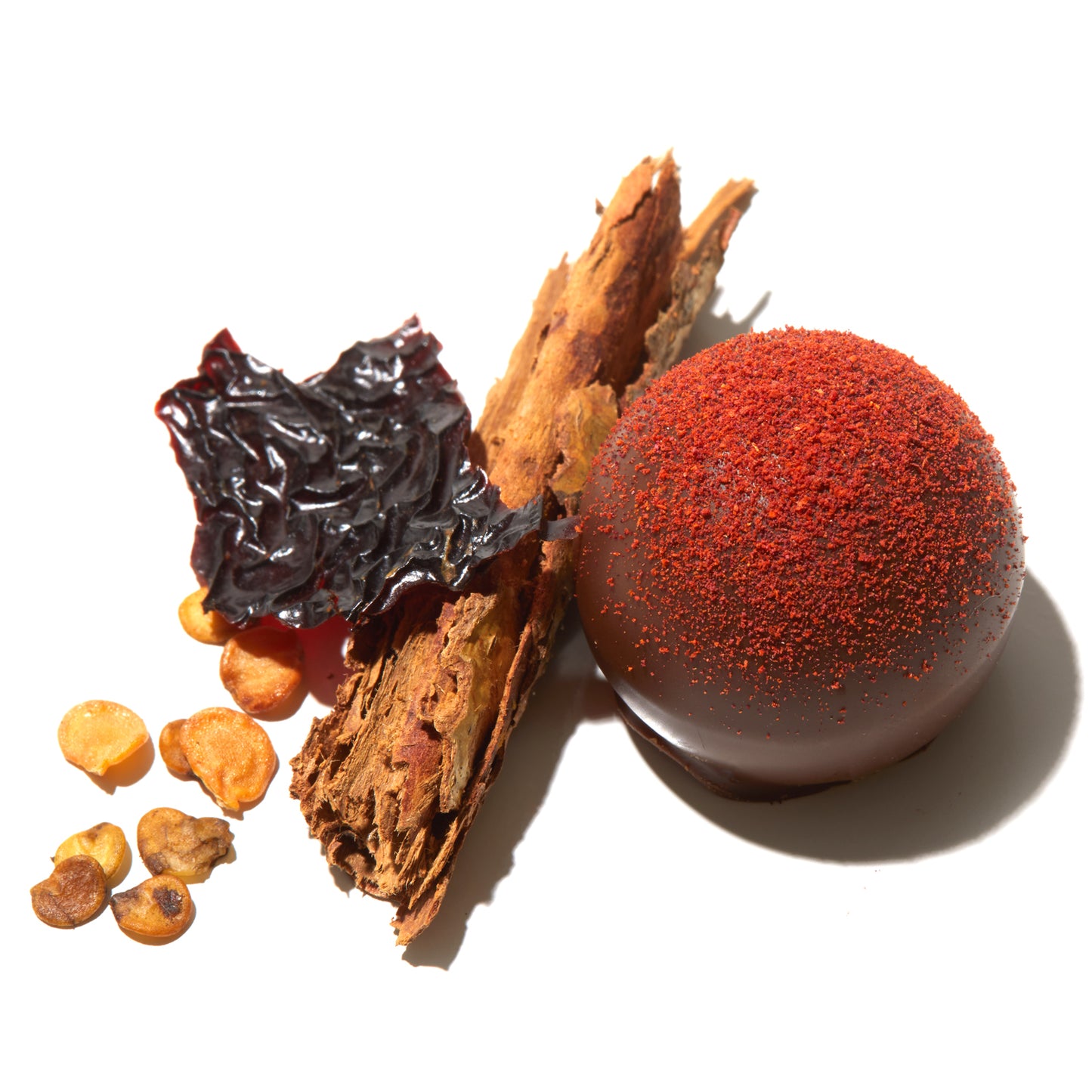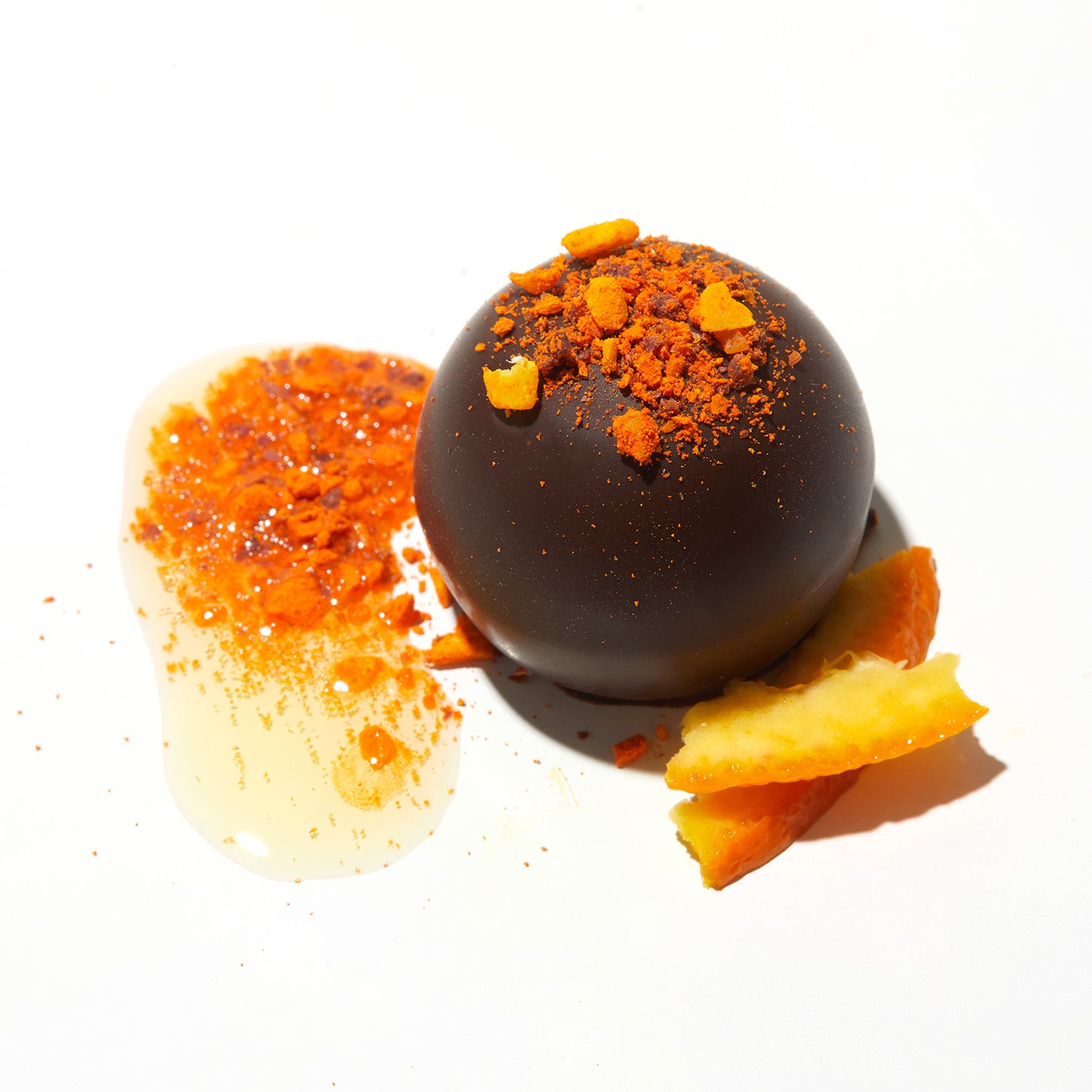 Don't just take our word for it...